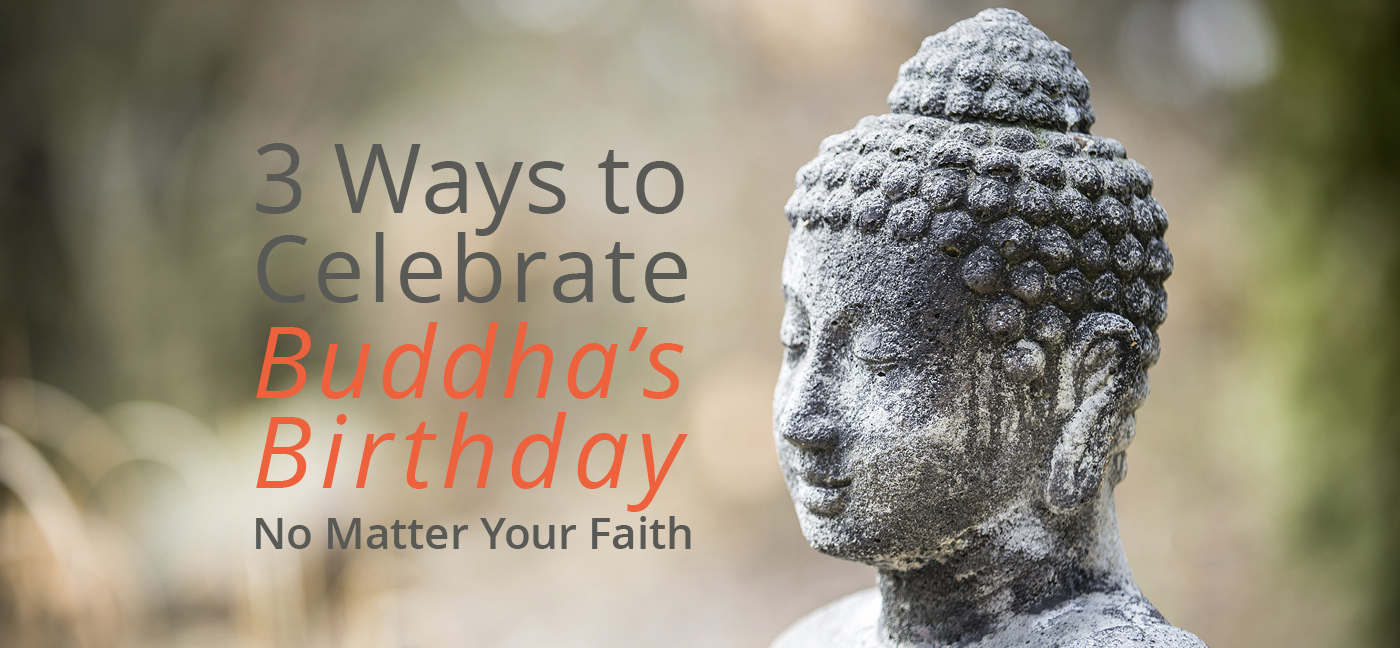 Consider this your Facebook reminder that someone has a birthday today…it's Buddha!
Buddha and what he exemplifies means a lot to millions of people around the world.
Buddha's real name is Siddhartha Guatama and was an actual person who was born on April, 8th around the year 563 BCE. Buddha started out as a prince, but later denounced his crown and founded Buddhism.
Buddha's main message was to lead a moral life and to be aware of both yourself and those around you. These principles are basics in any religion, making it easy to apply them in our own lives!
So here are 3 ways you can celebrate Buddha's birthday no matter your faith.
A Meditation Celebration
Meditating is one of Buddhism's most talked about methods of gaining enlightenment. Trust me, this works way better than pinning quotes to your Pinterest board! Start by finding a quiet spot that'll stay quiet for at least 15 minutes. If that means you're just chilling in your car, that totally works!
Once you find your quiet place, close your eyes and focus on your breathing. Count the breaths you are taking and try to slow them down. Once you find a slow, peaceful rhythm transfer your focus to your body. Are there any areas that are tense? Focus on those areas and imagine cool water brushing over them. When they're nice and relaxed, bring your attention back to your breathing. When you're ready, open your eyes and take note of how you feel. You can use this quick meditation as a way to wind down, or start going more in depth with your thoughts. It's all up to you!
Pat on the Back
Buddhism is all about being self-aware, and recognizing both your faults and successes! So, we're gonna write ourselves a letter of recommendation!
Yes, I am totally serious.
I want you to write a letter about why you're qualified for this "job" called life. Write down what strengths you are proud of, and what life experiences have helped you get to where you are now.
Next, I want you to answer the dreaded interview question, "What are your weaknesses?" Take some time thinking through this, but make sure not to punish yourself for your weakness. No one's perfect, so don't put that expectation on yourself! Find ways you can turn a happy weakness into a happy strength, then go out and make it happen!
Pat Someone Else's Back
Not just anyone's back…but an enemy's back.
I know a name just popped into your head. One popped into mine, too!
Take a few minutes to think about this person. What have they done right? What about them can you actually admire? If this is taking a while, go ahead and scroll up to that section about meditation. Clear your head a little and try answering this question when you're relaxed and calm.
When you have at least one good quality, go ahead and pick up the phone and tell them!
Okay, who are we kidding, no one calls people anymore. Especially their enemies.
If you feel comfortable getting on the phone, that's great! But if not, then go ahead and send your compliment via a Facebook comment or email! Either way, you're getting outside of your head and focusing on others, despite their flaws.
After all, that's what Buddha was all about.
As a writer, believer, and chronic Pinterest fail-er, Maddy believes that everyone has a unique message to share with the world, and enjoys finding new ways to strengthen her faith through different perspectives.