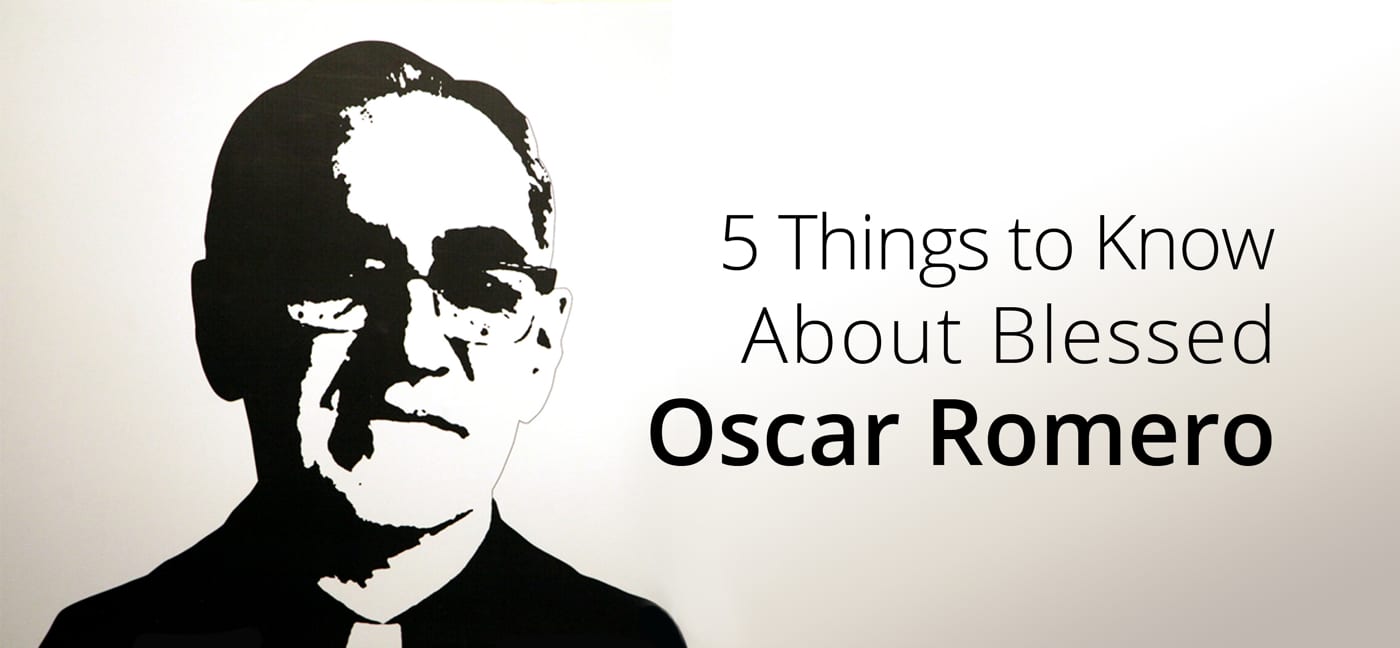 In May, Pope Francis announced that Blessed Oscar Romero would be canonized in October, at the Synod of Bishops. Romero will become El Salvador's first saint. There is much to learn about this courageous figure. Here are five interesting and inspiring things about the soon-to-be saint.
1. As archbishop of San Salvador, he spoke out against human rights violations. He drew attention to the plight of the poor in El Salvador through his homilies and weekly radio shows. In a time of great social and political conflict, he condemned violence from political groups on both sides. His defense of the vulnerable drew international attention. In 2010, the United Nations General Assembly declared March 24 the International Day for the Right to the Truth Concerning Gross Human Rights Violations and for the Dignity of Victims, in memory of Romero.
2. When his friend and fellow priest Fr. Rutilio Grande was assassinated for helping the poor in El Salvador, Romero was inspired to devote himself to this work. This moment greatly influenced the rest of his life. He said, "If they have killed him for doing what he did, then I too have to walk the same path." Despite realizing the danger to his life, Romero dedicated himself to living out the Gospel. He faced many threats to his life while archbishop.
3. He was killed while celebrating Mass. An unidentified gunman entered the hospital chapel and shot him in 1980. Pope Francis declared Romero a martyr in February 2015, saying that he had been killed out of hatred of the faith. In May 2015, at his beatification, the step before the Catholic Church proclaims someone a saint, Pope Francis quoted Romero: "We must be willing to die for our faith, even if the Lord does not give us this honor."
4. While Romero's faith clearly drove him to stand up for the oppressed in El Salvador, it also influenced lesser known aspects of his life. Romero's connection with the personal prelature of the Catholic Church Opus Dei is not widely known. He went to Opus Dei priests for their advice, which is known as spiritual direction. He knew the founder of Opus Dei, St. Josemaria Escriva, and, after St. Josemaria died, he wrote to Pope Paul VI, urging him to begin the canonization process.
5. In addition to Pope Francis, Pope John Paul II and Pope Benedict showed support for Romero. Pope John Paul II visited Romero's tomb and included him in the list of the great martyrs of the Americas during the 2000 Jubilee Year celebration. Pope Benedict showed enthusiasm for the cause of Romero's beatification. While Romero's work directly relates to Pope Francis' emphasis on marginalized people, the previous popes' support of Romero should not be forgotten. Romero's canonization this fall will be an important event for the Catholic Church in El Salvador and beyond, as it will help spread his message of peace and compassion.