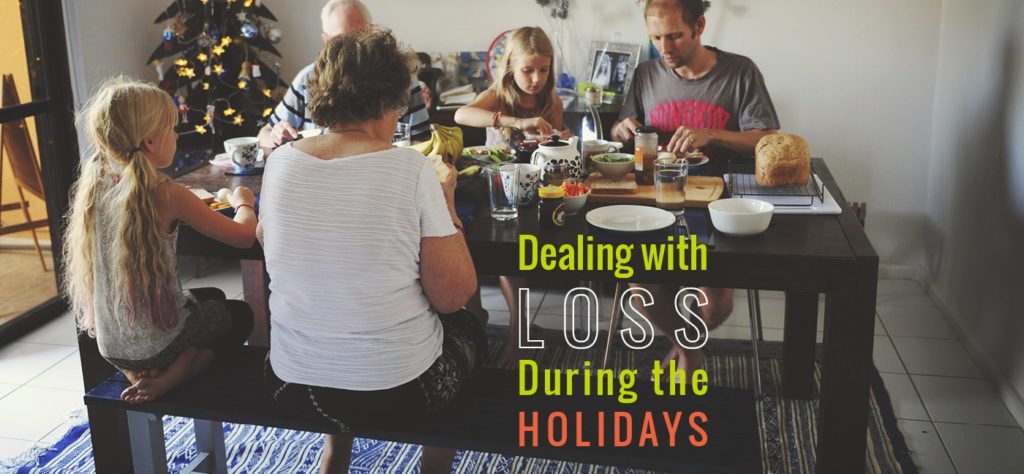 I'm going into my third Christmas after my mother's passing from cancer. Sometimes I ask myself if I really know how to "deal with" these things called loss and grief very well. If "dealing with" loss during the holiday season means coping with my grief in a healthy, proactive way, the answer to that question sometimes is, "Yes," but often is, "Not really."
I'm grateful for the principles I've learned in the last three years from friends, family members, and helping professionals about living with grief and loss, especially during the holidays. I've come to realize that putting these principles into effect is a practice—a daily effort over time that has peaks and valleys, but ultimately moves upward.
Principle 1: It isn't possible to shut out grief during the holidays. You have to make a place for it.
I feel like articles like this tend to promote band-aid solutions to "feel better" during difficult times. The truth is, the pain of separation from those we love will never go away during this life, and sometimes it just hurts. I've realized that over the past few years I've often run away from my pain or tried to shut it out. However, stifled pain doesn't go away—it just builds up until it comes out, often at inconvenient times and places.
One of the best pieces of counsel I received from a friend whose father passed away was to create space for grief. Build time into your life to go to that place where you allow yourself to feel that pain, and it won't pop up and surprise you as much. This can take the form of counseling appointments, rituals like a special candlelight vigil, or an evening in to write about your feelings. Creating this space is always important, but especially at high-emotion times such as the holidays.
Principle 2: Be willing to be present with circumstances as they are and create new traditions.
Tied up in grief is pain of separation and pain of unmet expectations. The separation I can't control, but I can adjust my expectations of how holidays should go based on my present circumstances.
My kind stepmom and I recently had a conversation about allowing things to be as they are instead of clinging to expectations of how things used to be. I went home for Thanksgiving this year and had a much better experience. I let go of some of my expectations that things would be the same as they were before my mom's passing as well as my assumption that my family should take the initiative in making sure I had a good time.
For Christmas, my goal is to create new traditions for myself to honor my mother and help myself have a positive experience. My friend who lost her dad said that her family always hangs a special ornament in her father's honor on Christmas Eve. That idea rang true to me—instead of holding our pain inside, we honor the past while making our loved ones a part of our holiday celebrations moving forward.
Principle 3: Be kind to yourself and reach out for support from those you trust.
During the holidays, some days are going to be painful—perhaps for the rest of my life. Some days I do well, writing about my feelings and reaching out to friends for support, and some days I binge-watch Jane Austen movies and cry in my room. I'm learning how to honor my grief as part of my story without letting my pain drive everything I do. I'm practicing, and my process is okay. Having a friend who can hold space for me without judging, whom I can reach out to day or night, has been invaluable in my healing process, and for anyone going through a similar situation I would wish the same.
Looking forward
So how will the holidays go this year for me? Sometimes when people ask me how I'm doing after a particularly emotionally trying episode, I say, "I'm good." And I mean it. Growing, refining processes are not always fun and often painful, but they are good. They make me kinder, softer, and more compassionate to others and to myself. They give me the opportunity to come to know myself and come to know God. For me as a Christian, that is what Christmas is all about—hope in Christ and His power to overcome all things.
Ariel Szuch is a word nerd, writer, and compulsive reader who finds purpose in a life of faith.