Hannah Robillard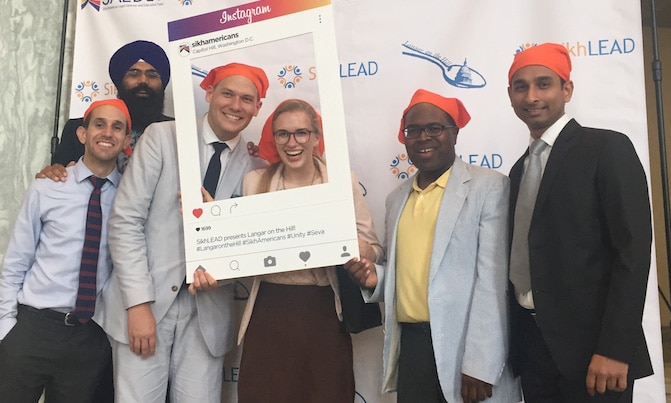 I've always preferred walking barefoot when I can. In the grass, at the beach, in my house—it's simply more comfortable to me than flipflops that rub, or flats that pinch, or boots that weigh me down. Since interning in DC, however, I have had little occasion to take my shoes off. I always should look professional, and that means even sandals are off limits. However, to my great delight Friday, I walked through the marble halls of the Rayburn House Office Building, completely shoeless.
I wasn't having a rebellious streak, or protesting unreasonable clothing standards for women in Congress. Instead, I was there to visit some friends. The Sikh American Legal Defense and Education Fund (SALDEF, for short) was hosting its 4th Annual Langar on the Hill event, where representatives, interns, staffers, and anyone who wants to attend can sit on the floor, take their shoes off, eat a delicious vegetarian meal, pack food for the DC Central Kitchen, and celebrate the values of equality and community that are enshrined in the Sikh religion.
From what my Sikh friends told me, the idea of a communal kitchen ties together the past and the present of their faith. Guru Nanak, the person attributed as Sikhism's founder, thought it would be a tangible way to show that every person mattered, regardless of class, race, gender, or any other social standard. Eventually, Sikh communities operated these centers for tens of thousands of people to receive a meal without cost, where they are treated with respect and care. That tradition continues today, and for the folks at SALDEF, this meal provides an opportunity for them to reach out to people in DC. Attendees can learn about the ways Sikhs help their neighborhoods and the unique religious freedom challenges they face here in the United States.
Arriving there, I didn't quite know what to expect. A SALDEF intern greeted me and my coworkers. She explained that as a sign of equality, everyone at the event would cover their heads with a kerchief and take their shoes off, sitting on the floor for the meal portion of the event. We had fun figuring out how to tie the bandanas around our head, and were pretty happy with the result.
Joining the line for the meal, we said hello to some friends and scooped food onto our plates. Then, alongside men and women, interns and representatives, people of many faiths and backgrounds, we all sat on the floor together and ate our meal.
Looking around the foyer in Rayburn, seeing similarly covered heads eating or packaging meals to go to the needy, I realized just how special this symbolic meal is. I have volunteered at many food distribution centers, mainly through religious organizations, but I'd rarely seen a meal so laden with simple reminders of the dignity and value of each person serving and being served. I imagine that, for the thousands of people who receive meals from Sikhs, that is literally a life-saving reminder.
After I finished my meal, and packed one for DC Central Kitchen, I needed to leave. I stopped to pick up my shoes I left outside the foyer. Looking at the pile of flats, dress shoes, and heels, it occurred to me that I wouldn't be able to tell a senator's pair from a staffer's. The meaning behind the event—showcasing the equality of all people—was clear from the moment I took my shoes off, to this moment, putting them back on. Walking back to the metro, I realized how much I valued learning about self-sacrificing service from sharing Langar—and not just for the excuse to take off my shoes on Capitol Hill, either.