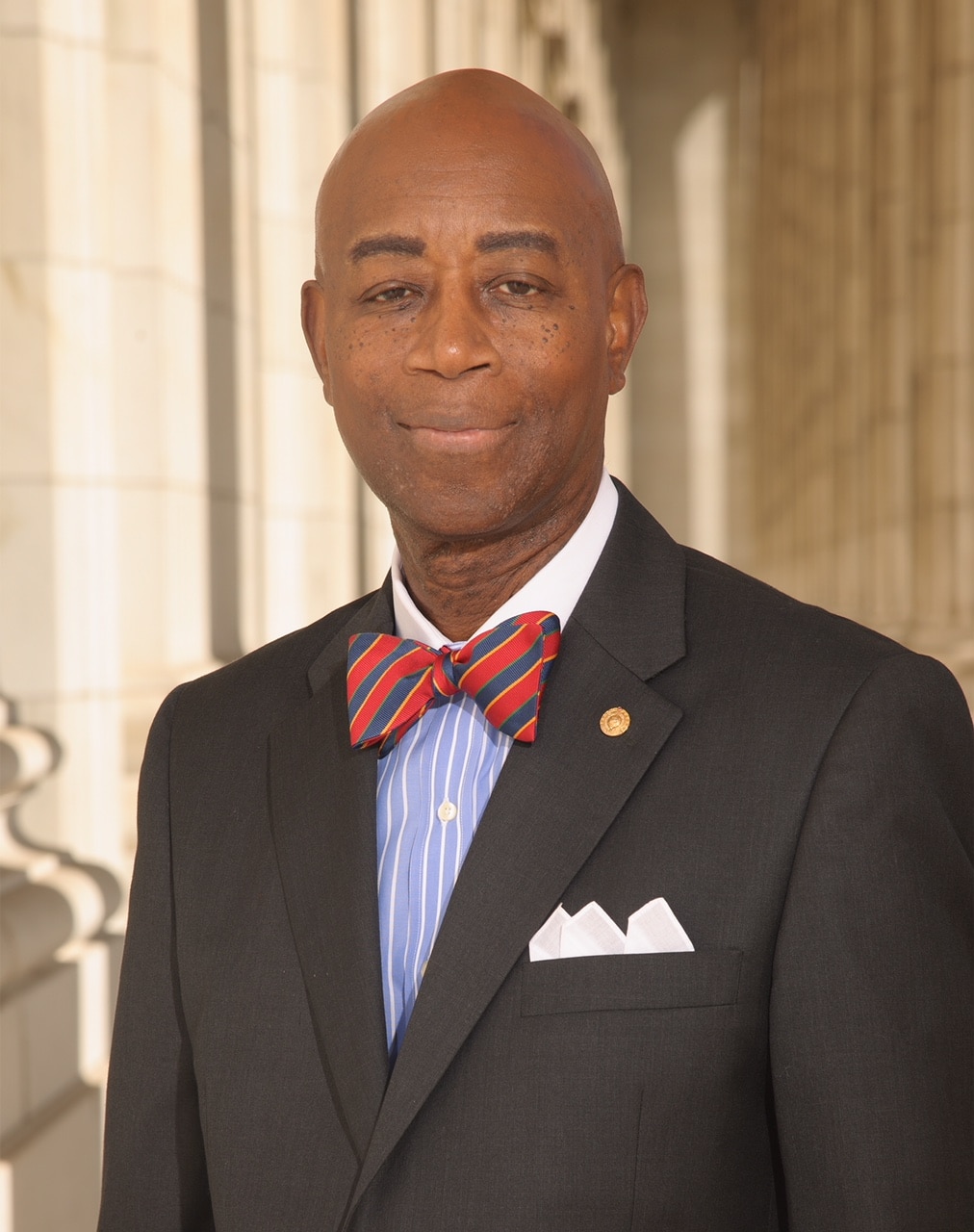 Overlooking the national mall, tucked away from the noise and bustle of daily activity yet still easily accessible to anyone seeking help, the Senate Chaplain's office provides a place for guidance and restoration amid the chaos of politics.
These quiet chambers are the domain of Chaplain Barry Black, a native of Baltimore, Maryland who served as a chaplain in the US Navy for 37 years before finding his new office on Capitol Hill. In June of 2003, Black was elected as chaplain of the US Senate. Fifteen years of service later, he is the second longest serving chaplain in the history of the US Senate. We had the chance to sit down with Chaplain Black to learn more about his role serving some of the country's most influential men and women.
Chaplain Black describes himself as an "ethical fitness coach," providing spiritual and ethical advice for members and staff who regularly live and work far from home. He helps lawmakers focus on spirituality by regularly leading Bible studies, hosting a weekly prayer breakfast, and offering personal guidance to members and their staff. We asked how the Senate Chaplain meets these needs while serving a community of different faith backgrounds. After all, Senate members identify as Christian, Buddhist, Jewish, and atheistic, to name a few.
He credited his ability to minister to people of different faiths to his time spent in the Navy. While he himself is a Seventh-Day Adventist, he described how he's learned to teach to a diverse audience. He used Protestant and Catholic members as an example, noting that both
denominations can say 'amen' to the Apostles' or the Nicene Creed and "are pretty happy with that. And there's not really any disagreement. So, when it comes to the religious side, unlike the political side, lawmakers and the other folk on Capitol Hill have far more in common," Black said.
Through the guest Chaplain program, he is able to bring in an imam for Muslims and a rabbi for Jews. He has found this partnership to be an effective way to reach a diverse crowd while remaining true to his Christian doctrine. Through philosophy and general maxims from his Christian faith, he can ethically advise those who do not adhere to a particular faith.
Chaplain Black emphasized the value of the Senate's pluralistic setting. As he ministers to a community of diverse beliefs and backgrounds, Chaplain Black enjoys "the interaction and the search for truth." When a Senator or staffer asks his opinion on an issue during a roll call vote, he told us, "it's an effort to search for truth. And that's the beauty of it." These genuine inquiries in the midst of complicated political debates bring to light a different side of our lawmakers, a positive trend often overlooked in the media focus upon the political battles common on Capitol Hill. These visits happen frequently. Just before we came in, a Senator stopped by with questions about the delivery of Paul's epistles.
As a nonpartisan and nonsectarian, Chaplain Black is able to minister to both sides of the aisle. When President Obama was a senator, Chaplain Black said the future president made frequent visits to his office with questions from his Bible reading. His walls are decorated with pictures of various politicians and religious leaders from Vice President Pence to the Dalai Lama.
According to the Chaplain, most members are interested in knowing "how do I make a choice when there is a right versus right conundrum?" He explained that Senators face many policy issues where it is not a clear choice between right and wrong but rather a choice between two conflicting values. "Are we dealing with truth versus loyalty? Are we dealing with the individual versus the community? Are we dealing with long term versus short term?" Through both theological and philosophical frameworks, Chaplain Black helps senators find ethical solutions to complex issues.
Although his job may seem challenging, Chaplain Black explained that he believes God equips people for the doors He opens. Because of this, he doesn't find his job difficult. Rather, he sees himself as "able to minister to anyone who wants to live well, regardless of what his or her faith tradition may be." As guidance for his leadership role in the US Senate, he looks to the advice of poet Edgar Guest, who said "I'd rather see your sermon than to hear your sermon." Living consistently with one's faith can be difficult on Capitol Hill, where it can be easy to get caught up in temptations of power and wealth. It is better to be an example to live with "ethical congruence" and to "walk the talk" than to merely preach about good living.
For members and staff of the US Senate today, it seems nearly impossible to find one common element that brings everyone across the aisle. Like the constituents they serve, the people of Capitol Hill can often lose hope in government and wonder what it will take to resolve the seemingly insurmountable divides that splinter DC. While the Senate can be the one of the most chaotic places in our country, the Chaplain's office serves as a retreat to escape the chaos. After sitting down with Chaplain Black, one thing was very clear: in a place that can seem to be completely broken, faith can lead us in the right direction and bringing our nation's leaders together.
Ross Ackerman is a junior at Iowa State University studying Finance and Political Science, Taylor Bradley is a senior at the University of South Carolina studying Political Science, and Ann Whelan is a sophomore at the College of William and Mary. They all spent their summer interning for the 1st Amendment Partnership and exploring Washington D.C.