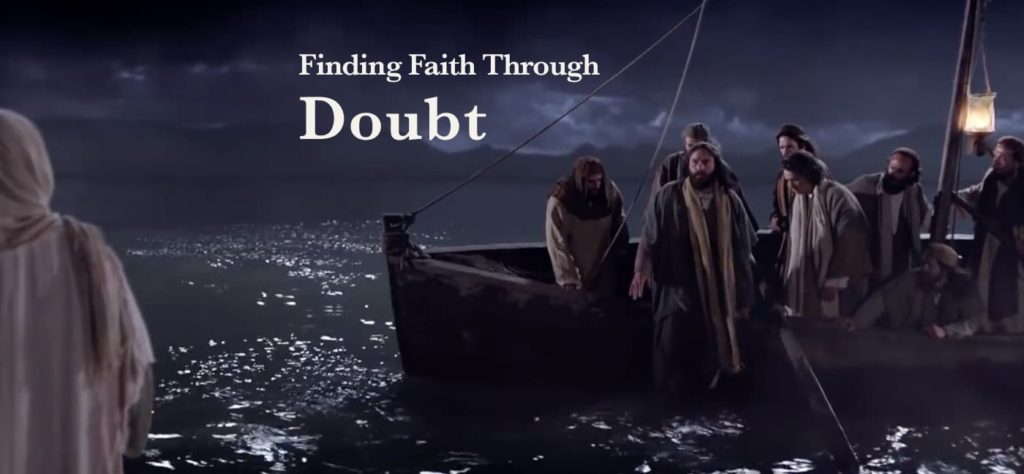 "The doubt of the century."
When the Archbishop of Canterbury asked, "Is there a God? Where is God?", the media frenzied on his doubts and labeled them with the phrase above. You can't have doubts and lead a church!
That's the feeling about doubt.
For example, James 1:6 reads, "But let him ask in faith, with no doubting, for the one who doubts is like a wave of the sea that is driven and tossed by the wind."
In your mind, does doubt keep company with fear and unbelief, three possible stumbling blocks for faith? If you or I had doubts, we must be in a dark place, spiritually.
Really? Must we?
If Archbishop Justin Welby has a doubt, has he lost his faith?
I believe that faith depends on, even demands, that we experience doubts.
In the hours leading up to the crucifixion of Jesus, Peter was asked about Jesus three times and three times, he denied knowing Him. After the third denial, Jesus "turned, and looked upon Peter," as recorded in Luke 22:61.
He turned. He looked.
I've pictured this story in my mind. I've imagined the fear felt by the mortal man, Peter. I've imagined the darkness and violence of that night.
I've pictured how Jesus must have looked back at Peter. I pictured an expression of abandonment, disappointment, sadness, or maybe even disgust.
Perhaps not.
Perhaps I read it all wrong.
"And the Lord turned, and looked upon Peter."
That's it. That's all that Luke wrote. There's no sensationalized account of what transpired.
Only a few hours prior, Jesus had knelt in the Garden of Gethsemane. He had suffered. He had bled from the pain. He took the sins of the world upon himself. Now He would know. Now He could succor.
Maybe instead, with His look, he told Peter, "I now know." Could his eyes have been filled with love and empathy? He looked back at the man Peter, at the doubtful Peter, and perhaps His eyes were filled with understanding.
Perhaps he remembered. Perhaps He recalled a time when He had grabbed Peter's hand as he sank into the Sea of Galilee. "O you of little faith, why did you doubt?"
He now understood Peter's doubts. He now understood Peter's fear. He now understood Peter's faith! Peter stepped out of the boat. He walked on stormy waters. He felt doubt. He began to sink.
The power of doubt comes in how we choose to respond.
The boat was certain to Peter, a vessel built to float. Jesus was a man standing on the waters of a stormy sea. If Peter had given in to his doubt, let it overwhelm him and drive him back to what he knew for certain, he would have turned back towards the boat.
Instead, Peter reached out and called for Jesus.
Some may think it's blasphemy to have doubts in your faith. Some may think you are transgressing to question the authenticity of your beliefs.
But, an attitude of certainty may lead to an attitude of self-righteous intolerance, dogmatism, and fundamentalism.
Embracing doubt can lead to deeper understanding through a process that strengthens faith. Flannery O'Connor, an American writer and essayist, described this:
"I think there is no suffering greater than what is caused by the doubts of those who want to believe. I know what torment this is, but I can only see it, in myself anyway, as the process by which faith is deepened. A faith that just accepts is a child's faith… [People] think faith is a big electric blanket, when of course it is the cross. It is much harder to believe than not to believe."
"Lord, I believe; help thou mine unbelief."
Like the biblical father who said those words, Peter's actions said the same: Jesus called; Peter stepped out; winds howled; Peter began to sink.
It was Peter's doubt and unbelief that enabled him to grasp firmly to his faith.
Through doubt, I take on the necessary exploration of my beliefs.
I challenge those beliefs.
It is from personal doubt and unbelief that I then build the bedrock of my faith.
Lauren Elkins is a professional writer, former IT industry expert, and a mom. She also writes a personal blog and maintains a website at laurenelkins.com.