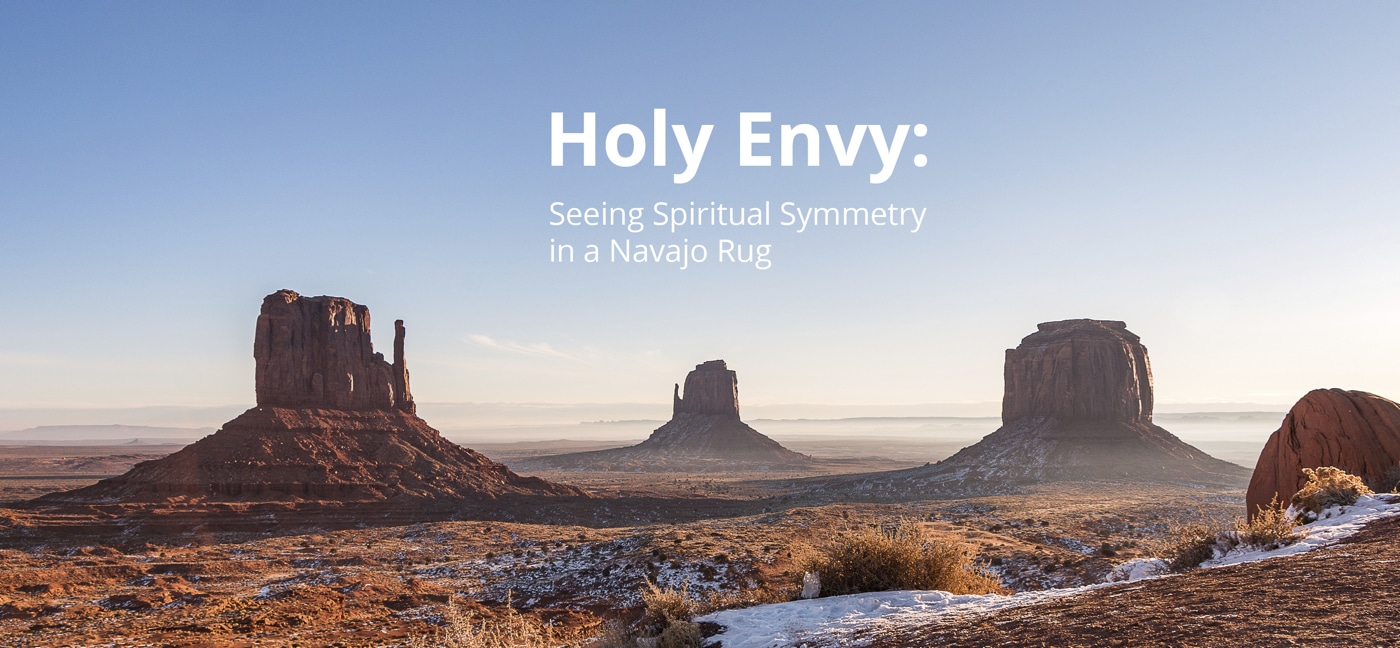 Over the years I've traveled to portions of the Navajo Nation a number of times. This piece of the American southwest is both beautiful and evocative. Long mesas, red rock pinnacles, and a unique mixture of old and new: trading posts and modern convenience stores; elders in velveteen and turquoise and their grandchildren focused on their I-phones; radio advertisements in both Navajo and English. The geography, the customs, the people all make the place sacred.
I am an Anglo Christian of Latter-day Saint persuasion and recognize the limitations of my observations. Navajo spirituality tricks me. I think I've grasped an insight only to see it change shape and point elsewhere. It is in the works of art that impressions hold together. Spirit and matter are joined.
I'm fortunate to own two Navajo rugs. One is of the Two Grey Hills style, named for the region in New Mexico where it originated close to a hundred years ago. These rugs are known for their natural colors — gray and brown hues, cream, white and black — their very tight weave, and their intricate patterns. At the center of this rug is a serrated diamond; seven borders in alternating colors and different edge designs radiate outward. In each corner are triangles, squares and terraced steps of different colors. A white zigzag line runs down the edge of the rug, just inside a surrounding black border. The entire rug is a perfect symmetry of numerous combinations of geometric designs and colors. When folded together, the corners or edges will match perfectly. Amazingly, weavers use no predetermined patterns or outlines. The design and detail of the rug is in each individual weaver's mind.
The other rug (a different style) was made by a Navajo woman now in her nineties who completed the weaving in very traditional fashion. She raised and cared for the sheep from which the wool came. After shearing the sheep, she washed and carded the wool, spun it into yarn, dyed it with natural ingredients, and prepared the loom. Then the weaving began. While most rugs now are made of commercial yarns, the same levels of skill and patience are required in the weaving. The design is revealed through long hours (days, weeks, even months) spent running horizontal wefts of colored wool through precisely-spaced vertical warp cords. One expert has said that "weaving requires a unique combination and coordination of conceptual and manual skills."[1]
The Navajo woman who made the second rug knows her sheep like her own family. When she married as a young girl in 1936, she was given twelve sheep. Decades later, she can still trace her current sheep back to those original twelve. Incredibly, some of those came from sheep her grandparents obtained when they returned to their native lands after the Navajo Long Walk from Bosque Redondo, New Mexico, in the late 1860's.
I marvel at Navajo rugs — the beauty and art, the craft and history. For me, they also reflect two elements of a Navajo worldview I particularly admire: symmetry and sacred homeland.
Symmetry. To appreciate their meaning, one must look often at Navajo rugs like these two. There is a complexity and a completeness not noticed at first glance. Repeated views reveal not only new designs and combinations of colors and patterns; there is also a wholeness to be grasped, a harmony to experience. The balance, order, and symmetry — touchstones in a Navajo worldview — are extraordinary. "The Gods designed this world to be a beautiful, harmonious, happy and healthy place. To be maintained, beauty needs to be expressed and renewed in ritual, song, art, speech, dress and daily living."[2] Such is a Navajo rug — individual creativity and cultural patterns that produce something beautiful, good, harmonious, and symmetrical.
Even older weavers, whose trembling hands or failing eyesight won't allow for perfect lines or straight edges, still envision in their minds beautifully balanced and proportioned weavings. An aspiration and reflection of the lives they have lived. Such equilibrium in life reminds me of how Jesus would have me live.
Sacred Homeland. I think of those generations of sheep that link my rug to the joyous, distressing and necessary Navajo migration back to their homeland, a homeland surrounded by the four sacred mountains. The land was given to them by deities after they emerged from various underworlds. (Several other indigenous tribes have emergence and migration narratives, being led to sacred lands.) The wool for the rug is connected to earth, as are the plants from which the dye is made to color the wool. The connectedness and symmetry achieved in making a rug also exists in all things. The earth is "a living, breathing entity in an animate universe. The land with its water, plants, and animals is a spiritual creation."[3]
In my own religious tradition, we do not separate matter from spirit. The Navajo worldview takes this thought further and helps me appreciate even more a statement from early church leader Brigham Young. "There is life in all matter, throughout the vast extent of all the eternities; it is in the rock, the sand, the dust, in water, air, the gases, and, in short, in every description and organization of matter."
Much can be learned from a rug.
Val Edwards is a retired public relations professional and outdoor enthusiast living in southern Utah.
Editor's note: This essay is part of an ongoing series on Holy Envy. People of various religions explain what they admire in other faiths. The purpose is to increase understanding and solidarity between believers.
[1] I am indebted to Gary Witherspoon and his clear thinking and understanding, especially as found in "Self-Esteem and Self-Expression in Navajo Weaving," Plateau, Vol. 52, No. 4.
[2] Ibid.
[3] Robert S. McPherson, Sacred Land, Sacred View: Navajo Perceptions of the Four Corners Region (Charles Redd Center for Western Studies, Brigham Young University, 1992), 11.