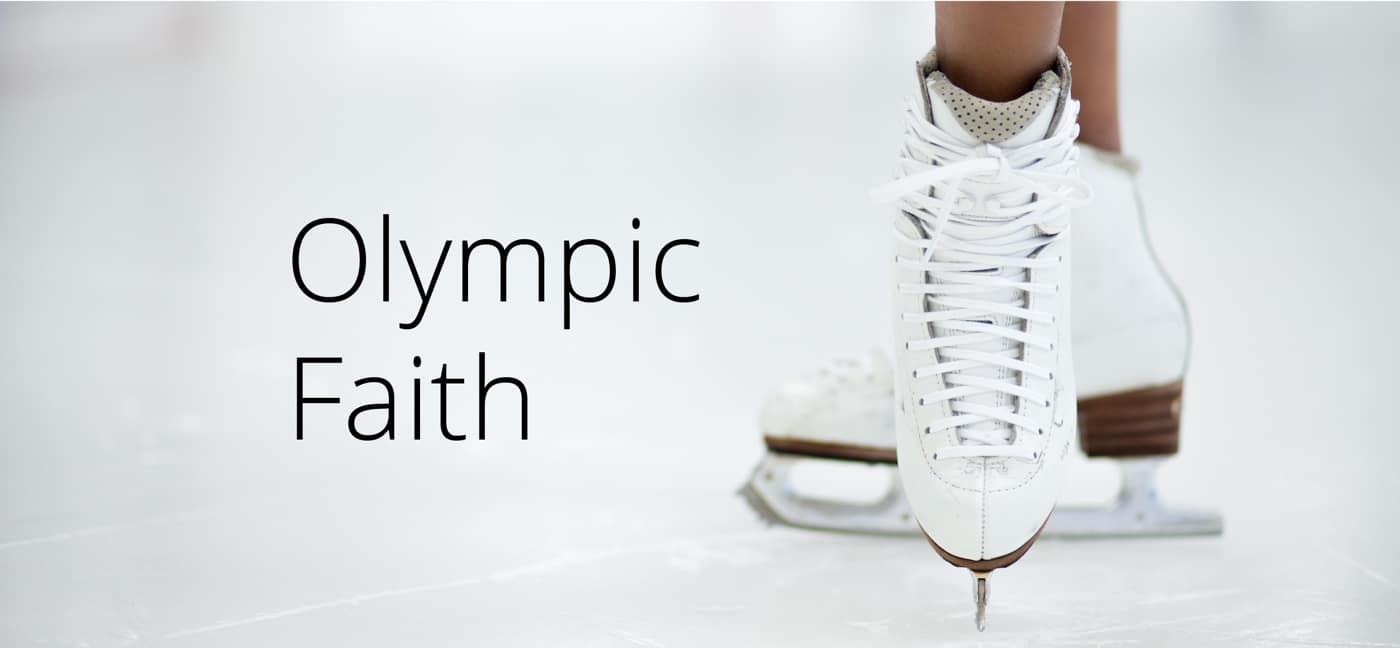 The Olympics have deep religious and spiritual roots. "For the ancient Greeks, the sport of the Olympic Games was quite literally a religious exercise — a display of religious devotion and worship," scholar Paul Cartledge writes in History Today. According to the Religion News Service, "Athletes paraded into the stadium past a line of religious officials and often dedicated their performances to a patron god. Even the prizes were religious — crowns of olive leaves made from trees in a sacred grove dedicated to Zeus."
When the modern Olympics were organized in 1894, the International Olympic Committee was founded on the idea that the Olympic athlete "would embody a personal kind of sacred temple … he would be his own representation of the sacred body of followers" (Anthony Moretti, quoted in https://religionnews.com/2018/02/08/god-and-the-games-2/).
Fast forward to PyeongChang 2018, where we have seen history in the making as we witness the touch of divinity in all athletes by their execution of talent, hard work, passion, dedication, and faith—faith in oneself as well as faith in a higher power.
Here is a sampling of athletes at PyeongChang who rely on their faith in a higher power.
Shannon Abeda, an alpine skier who competes for Eritrea, relates what many athletes must feel after a setback: "Sometimes you must have faith, having faith despite whatever odds are unsympathetically stacks against you, whatever curveball is being thrown and even at your lowest of low there is always a way. When the forecast is dim, overcast and no sight of sun you must believe with that small light in your heart. Try again, and again, again."
A.J. Edelman, an Orthodox Jew who competes in skeleton for Israel, finds strength in his faith: "There's a lot of emunah (faith) that goes into the whole journey. Before every time I go down a run in competition, I say a shir hamaalos (psalms), I think they are appropriate to say as I'm looking at mountains."
Two members of the American women's hockey team, Gigi Marvin and Nicole Hensley, share more than just a jersey, they share a love of Jesus Christ and His word.
Gigi Marvin told the Religious News Service, "I'm back on the ice, proudly wearing the 'USA' across my sweater and representing my country," she said. "But my mission is more than winning another medal or championship. It's about sharing Christ and leading others to Him."
"I know my worth is not found in what I can achieve in this game. My identity and value is only found in Christ, my Redeemer and Lord." @GigiMarvin #TeamUSA #Olympics #Hockey pic.twitter.com/h2J22Vsgps

— FRC (@FRCdc) February 17, 2018
Goaltender Nicole Hensley tweets out Bible verses and writes them on her face mask. She told The Hockey Writers, "Hockey has put me in some situations where I kind of wondered either 'why am I doing this?' or 'why am I here?' Or even, 'I don't want to be here – why is God making me go through this?' And in the end those reasons are some of the reasons that I have been able to get to where I am today. Looking back with 20-20 hindsight, obviously He had a plan in every single place that He put me. It is easy to say that now, but really it's just taught me that through the hardships you have to trust in your faith. You have to be willing to be uncomfortable to either grow in your faith or grow as a person or player as well."
Zephaniah 3:17 ? pic.twitter.com/TaQTWWQgN7

— Nicole Hensley (@NicHens29) February 20, 2018
Korean alpine skier Kim Sohee finds strength in prayer. Before every race, she prays, "God, please hold on to my arms and legs." She developed this practice early in life: "I was a 6th grader in elementary school when I first entered an international competition. For the 40 days before the competition, I went to early morning prayers. My mind became very peaceful, and I became brave. Since then, I always pray before games."
For American figure skaters Alexa and Chris Knierim, their faith in Jesus Christ helped them through an illness that threatened Alexa's life. For them, just being at the 2018 Olympics is a success, and their bronze medal is a bonus. But this victory has not gone to their heads—quite the opposite. The husband and wife team speak about their relationship with Jesus Christ and how they have given all of the glory to Him: "Here at the Games, it's no longer about me…I am a true believer in the Lord and I'm trying my best to shine his light and let people know that it's okay to promote him and do things for him."
Powerful words from U.S. Olympic skater @alexa_knierim! #Olympics #PyeongChang2018 #TeamUSA pic.twitter.com/msWBp8ACNx

— FRC (@FRCdc) February 12, 2018
Freestyle skier David Wise (USA) shares the Knierim's faith that the Lord will support him: "I don't have to worry about what's happening or the outside influences as much because I feel like I can trust God, and he's going to see me through. I can look back on my path and realize that God had a pretty significant part in taking care of me. It takes the pressure off and I can enjoy it."
American cross-country skier Noah Hoffman finds that cross-country skiing and his Jewish faith have something in common: a strong sense of community. "Supporting each other and supporting the community is really important to the Jewish community, and it's a big part of athletics in general and the cross-country skiing community in particular," he said. "It feels like a tight-knit network that is really founded on supporting each other, and that's one important connection that I make between the two." … "Life in general is about community and shared experiences," he said. "Having many different communities is a privilege, and the Jewish community is a huge part of that. I feel so lucky to be a part of so many things that are bigger than myself."
American skier Nick Goepper also enjoys the community aspect of faith. There are many Christian athletes on the slopes, and that helps Goepper stay focused and grounded. "It's never fun to do it by yourself," he told Beliefnet. "It's good to have other people that are on the same path as you. In 2014, Goepper said his favorite Bible verse is, "I can do all things through Him who gives me strength. "I kind of envision me skiing and God is kind of like an eagle right next to me screeching in my ear that everything is going to be all good," he said then. "I just try my best and that's all I can ask for."
When Simidele Adeagbo tried out for the Nigerian skeleton team, she said, "I just continued to push forward in faith that this was possible," she said. "And here I am." Her reliance on the Lord becomes evident when she steps onto the track and begins the process of hurtling down headfirst at speeds greater than 70 mph. "This sport is a faith sport," she said. "You have to have faith when all you are is just you and this sled. You have to let go and let God drive it in a partnership with you." All along, she's watched God put everything into place, little by little, to help her achieve her dreams. When asked, "What's next?", Adeagbo responds, "I don't know. But I know God will continue to guide me."
Mormon speedskater Jerica Tandiman finds that faith helps keep her grounded. She told the Deseret News, "[My faith has] helped me through a lot of hard times in training and skating," she said. "Being an elite-level athlete, there are a lot more lows than highs, there are a lot of disappointments, setbacks and hard training. And having that religious background helped me to get through those hard times. I don't know if I can say why, but it does. Knowing I have that religion, that life isn't all about my sport, there are things that I can turn to that help me get through those hard times."
Good friends helped American snowboarder Kelly Clark find faith in God. "They loved me because of who I was and not what I did," Clark said. She also read The Purpose Driven Life by pastor and Christian author Rick Warren. "That book laid one of the best foundations I ever could have hoped for," Clark said. Once Clark understood Jesus Christ's sacrifice and death on the cross and His resurrection for humanity's salvation, she reflected on what she read, learned and experienced. She asked herself two questions: Could she wake up another day and not think about God? And could she wake up another day and pretend He wasn't real? He was very real, very present in my life," she said. "I gave my heart to the Lord that day."
American skeleton athlete Katie Uhlaender told Religious News Services, "To be a good human, to be a good Christian, I have to focus on what I can control, and set the example. That's what a lot of athletes are trying to do, is focus on what we believe and the good in the Olympic movement."
"Quitting is never an option, so why would I quit on God? He guides me and gives me the strength to keep going." @KatieU11 @TeamUSA #Olympics pic.twitter.com/iGD8RGLa5Q

— FRC (@FRCdc) February 16, 2018
For Nigerian bobsledder Seun Adigun, faith is the secret to her success: "When you ride on faith, you're able to live in that element of selflessness. You're able to live in that moment of fearlessness. I don't attribute any type of individual success to myself, but more so to God's will to put me in places to allow things to flourish for opportunities to present themselves."
American bobsledder Elana Meyers Taylor and her husband Nic Taylor (who is an alternate on the men's bobsled team) find that their faith affects how they approach competition. Elana told the Christian Sports Journal, "The Lord calls us to love everybody. Every day it's a challenge. Within this sport, I'm called to love everybody. That means that every single German or Canadian that I want to beat, I still have to love. That means competing the way God wants me to compete."
American speedskater Maame Biney recognized God's power in helping her reach her goals. She wrote in an Instagram post, "I want to start off by thanking God. I am so sure that none of this would have happened if it wasn't for him. If God hadn't given my dad the strength to wake up, and take me to practice, I wouldn't be here today. I also want to thank God for giving me the passion to do this."
Heidi Bennett is a California native who now lives in Salt Lake City, Utah, with her husband and son. She is addicted to learning new skills and can be contacted at bennetthp@gmail.com.