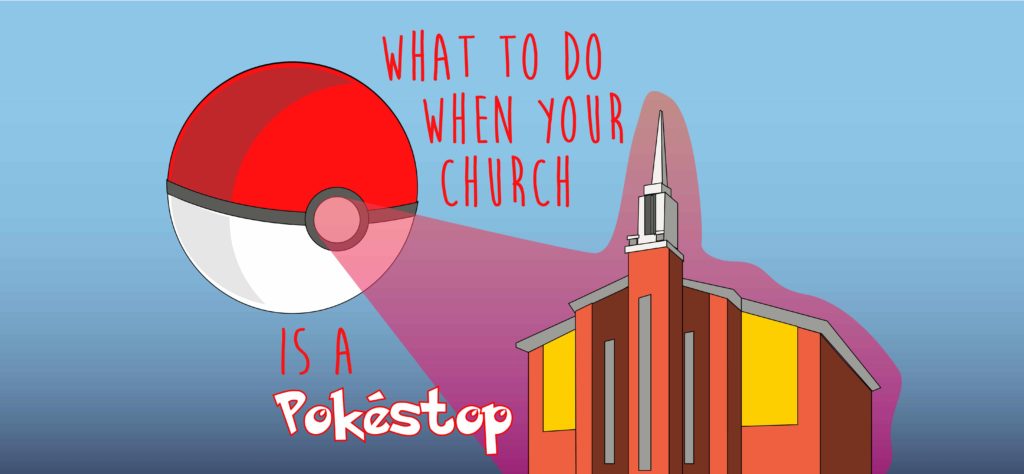 If you've been outside lately it is no secret that the Pokémon Go phenomenon just keeps on going.
Millions of people around the world are playing the mobile game, with 40 million downloads on both the iTunes App Store and Google Play. Pokémon Go is now the biggest mobile game in U.S history. As players visit popular areas to catch Pokémon or gather items, many find themselves directed to church parking lots or places of worship.
Churches are finding themselves at the center of an opportunity to share faith with others. Regardless of the reason people are stopping by, there are many opportunities to learn about faith, to share beliefs–even when playing a game. So as people drop by your church, or place of worship, here are 3 things you can do to help share your faith:
1. Take a Chansey with everyone
Be friendly and smile. It might be someone's first and only time visiting your church. View each visit as an opportunity to make a good impression and improve relationships within the community. The example you set could impact how they view your church and could determine future visits.
2. Don't be a Slowpoke
Invite visitors back for worship service or upcoming activities. Don't hesitate to help others feel welcome about coming back for worship or an event. Signs in front of many meetinghouses clearly state, "Visitors welcome," which is true for all, even if they are just there to play a game. There is no harm in simply inviting people to return, and it could make a big impact in their lives.
3. Share if they Pikachu
Share what you believe with others. Be open about visitors asking you questions about your faith. Don't be afraid to share what you believe and what matters most to you. Prepare yourself for questions that are commonly asked about your beliefs or religious practices. Get excited that people are asking questions about what you believe, and why you believe it.
Take advantage of the popularity of Pokemon Go and don't miss the opportunity to engage with others. Since playing Pokemon Go, I find myself walking through parks, looking at murals downtown I had never noticed before and exploring many churches and cathedrals around my city. It has been amazing how many connections I've made with others as we talk about the game. It is easy to second guess talking about faith, or to even share our own beliefs. Pokemon Go continues to bring people together and provides opportunities for people to interact in the real world, so why not share our faith?