Open the Flood Gates of Heaven, and Let it Rain
Faith in God's Timing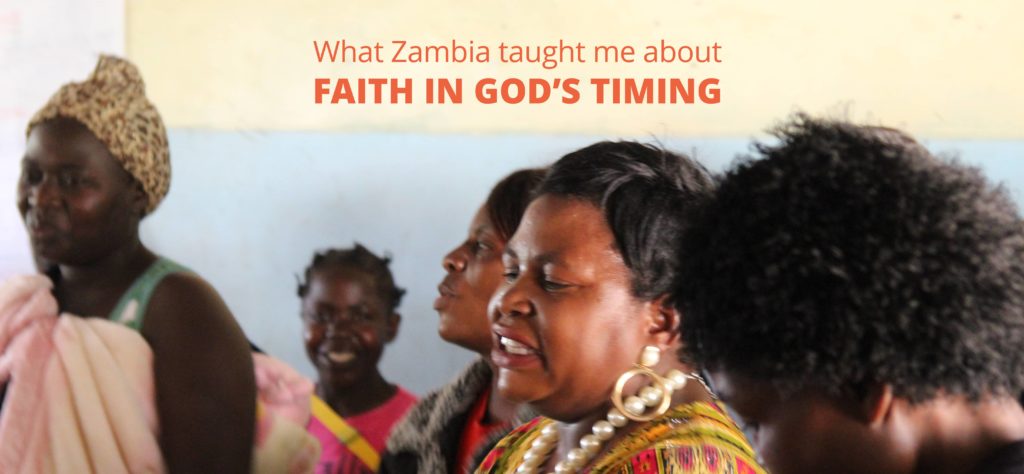 A recent humanitarian trip to the developing, third-world country of Zambia was a lesson for me on faith. Faith is not about our timing, but it is trusting God's timing for the blessings we hope to receive. I was reminded of this over and over again on this trip.
We have so much here in the United States, and there are others with so little. Even some of us who don't seem to have a lot here are materially wealthy in comparison to what they have there, but of course we can be rich in blessings without material wealth.
My visit was close to the end of the rainy season there, and things were still lush and green. However, rivers were already drying up at that point. What do you say to someone when you know the gardens and fields they planted will surely perish soon from the lack of rain?
I knew it wouldn't be long before the vegetables they counted on to feed their families and to sell for income weren't going to grow—and that it would be a problem throughout the country. They would all be affected in some way in this situation.
Nshima, a food that looks much like a pile of mashed potatoes but is actually a dish made from maize flour (white cornmeal) and water, was already a big part of their diets–but would it be the mainstay at that point? There are actually probably many people there who rely nearly solely on it. It's a humble existence there.
As I walked into a modest home that sits on the property associated with an orphanage, I noticed something written on the door frame. "Open the floods gates of heaven and let it rain." I couldn't stop thinking about this. This was a request to God, to send the rain so that gardens and fields could produce—so people wouldn't go hungry. The owner of this home looks to God in faith and trusts Him.
The people there are hopeful, and they believe in God and his timing. That's not always easy. What if the crops fail before God opens up the flood gates and lets it rain? What if the rain does come, so fiercely that it washes the crops away? There's a chance either way that they lose. They were already in drought conditions when I was there, before the rivers all dried up. They reminded me how important it is to do my level best so God can help the rest of the way.
They live in this dire situation. Were they crying and sitting around forlorn and worried? The answer is no. They were taking care of children, singing, spending time as sisters and brothers of a tribe, and leaving it up to God to bless them as he would. I had to take note.
I'm sure they have bad days, because we do as people in general. But my experience upon arriving at a certain village, in the back of an old Army truck, was one of a welcoming and giving spirit felt. They may not have a lot of material things to share, but they give love freely to all who enter their village. God would take care of the rest as they did their best and did all they could do. They were actively engaged in living every day no matter what.
One can't do this without a good amount of faith that all will be well—that God has your back.
The country of Zambia is a self-proclaimed Christian nation, and they aren't afraid to show their faith. There you'll find business names such as "God is Able Barber Shop; Abundant Blessings Enterprises and School," and you'll see words of faith labeling taxis as well. They are in partnership with God, and will wait patiently for his timing to send blessings.
The people of Zambia are such a good reminder to me that we are in good hands with God, and that his timing is the right timing. I see his blessings in my life, daily. I know he doesn't forget about me, or any of us. He knows our hearts, and he knows when we are ready to receive. That's a beautiful, comforting thing to me.